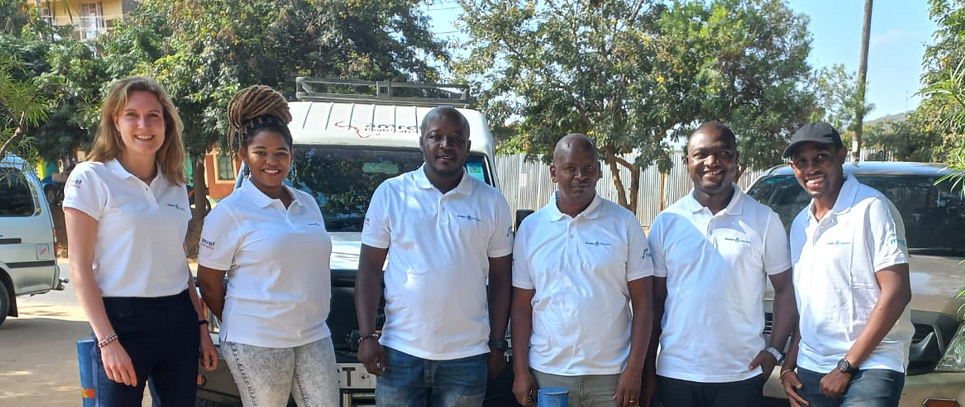 Flexibility is the code word
"The road to successful implementation of our water programme turned out to be a bumpy dirt road with obstacles, instead of a highway". What challenges does our colleague Romy Harkx encounter during the implemention of financially sustainable projects like WaterStarters? And what is the solution?
"We are going to face that bumpy road together so that there will be clean water and good hygiene for all." Romy Harkx, Amref Flying Doctors
Amref Ventures: connecting to local resources and needs
''My team, the Amref Ventures team, develops financially sustainable and scalable health solutions that structurally improve (healthcare) systems and make them less dependent on donor funding. We work closely with Amref's African offices, local communities, governments and the private sector. In this way, we ensure lasting change that matches available resources and local needs.''
WaterStarters: clean water and good hygiene
One of Amref's current ventures is WaterStarters; a collaboration between MegaGroup and Amref to provide people in Kenya with clean water and good hygiene in a financially sustainable way. We work with franchisees in rural areas to renovate existing water facilities and build new ones. The franchisees are people from the villages or local entrepreneurs. WaterStarters combines the creation of water facilities with the training of local health workers who educate people on good hygiene to fight diseases and pandemics like Covid-19.
Change takes time
"Flexibility is the code word," Romy learned after months of co-creation sessions, discussions with experts and funders, and mapping all possible risks. Relieved, she says: "Last year, we were finally ready to move from plans on paper to implementation."
Obstacles: ownership
To increase community involvement and ensure more ownership, even in the long term, we ask for a franchisee's own contribution of 15% of the initial cost to renovate or build a water system. Local franchisees fully support this proposal and are working hard to raise the money. Yet saving for this 15% is going slower than hoped for. For instance due to the ongoing drought, inflation and therefore more expensive materials, but also a car accident after which the money saved was donated to the affected family of the villager.
Getting started on common ground
''At the moment, we are in the pilot phase. The results of this pilot will determine the success and therefore the future of WaterStarters. Nevertheless, we need to look for common ground: where are we willing and able to budge on our model, and what do we stick to? We are convinced that 100% donation-funded water systems are not a sustainable solution to solve Kenya's extreme water shortage in the long term. That is why we are looking together for ways to accelerate implementation, but do not want to give in on ownership.''
Change takes time! ''We have started a behavioural change and learning process. Among local governments, Kenyan communities, our partners, but also among ourselves. Together we are going to face that bumpy road and ensure that everyone is provided with clean water and good hygiene.''
This blog was originally published in Dutch on Amref's website.
View media: