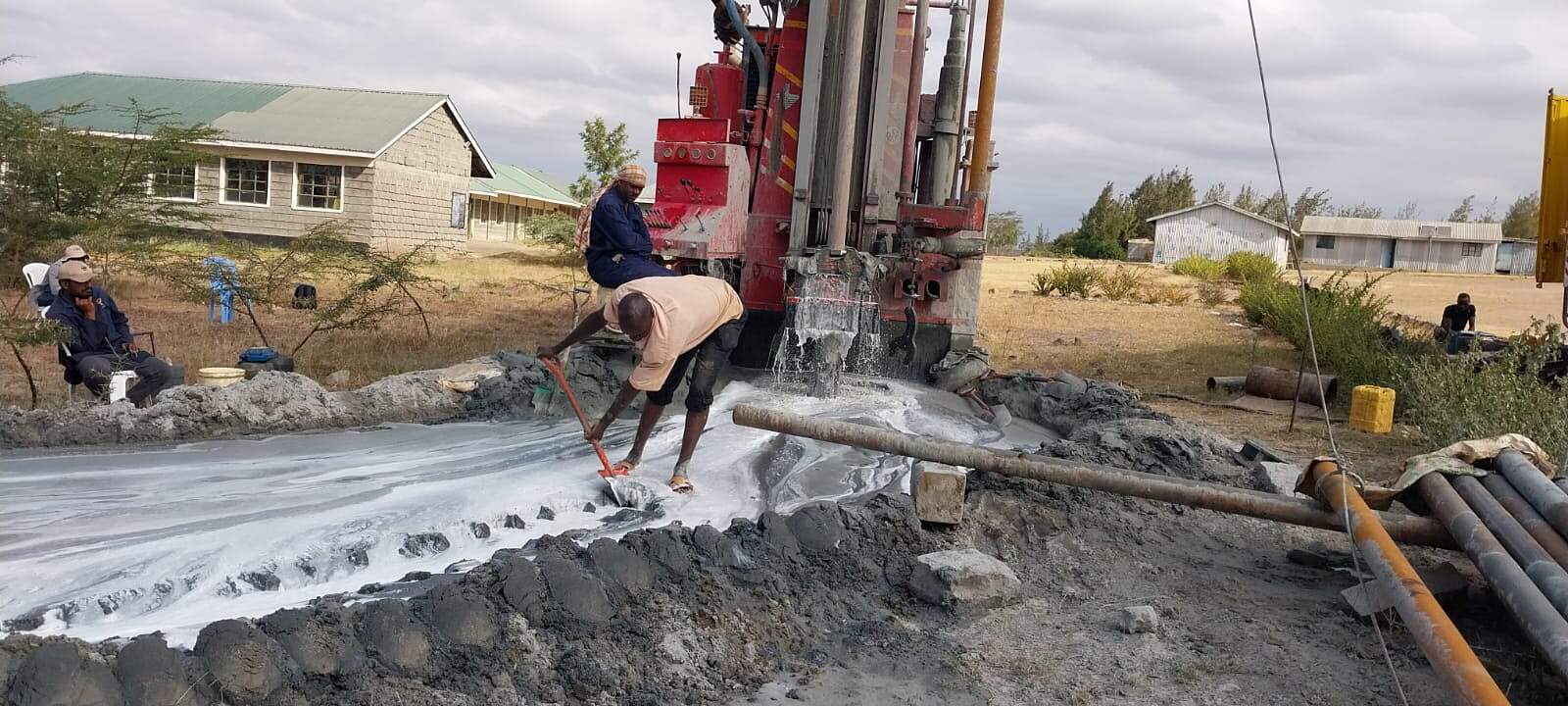 Water at the end of the tunnel
Exciting news alert!
You might not expect it, but working for WaterStarters can be quite nerve-wracking. Kennedy Omwaka and Jamlick Mutie experienced this firsthand while leading the WaterStarters project in Kenya with our partners.
Last year, we drilled the very first WaterStarters borehole in Kumpa, Kajiado County. This was an exciting moment, because for the very first time, we were working with a Kenyan franchisee who invested in the water source. The franchisee also operates and maintains the borehole. We had to drill much deeper than we were used to as well, due to the extreme drought in Kenya. Unfortunately, this is becoming more common because of the climate crisis.
We were lucky enough to struck clean water at a depth of 230 meters. Thousands of people in the Kajiado region now use that water every day.
We are on a roll
In early 2023, the water drilling machine was put in place again in another part of Kajiado named Naserian Village. The expectation was to find sufficient water around 250 meters deep to supply a school and the surrounding houses. The rock formation below ground level was extremely hard, so it took a while to reach that depth. And when we finally did, there was much less water than expected.
This led to tense discussions between the WaterStarters team, the water expert from the regional government, and the franchisee. We decided to go 50 meters deeper. It worked: a day later, we were already at 298 meters under ground level. But only a tiny amount of water was coming up. There was water, but just not enough to build an entire water system around it. Frustrating!
The team decided not to give up but to conduct further research. A gamble because a quite a lot of money was at stake. However, several water experts using various digital techniques, each pointed out the same location. They said there would likely be plenty of water.
And suddenly, there was water!
The second drilling started a few weeks later, and guess what? Eight small groundwater layers were discovered. We have to connect the central pipe to those eight layers, so it's still not easy. But we have sufficient water! We will soon be able to safely pump around 5 cubic meters of water per hour, which translates to 35,000 liters per day. That makes all the stress worthwhile.
View media: